Hochwasser Kompetenz Centrum (HKC)
In cooperation with the HKC we developed an international website about flood protection. The site, which we conceived, designed, and programmed, helps people all around the world to protect their homes from floods and high water. It also addresses heavy rainfall events and problems such as sewer backups and intruding groundwater.
Despite official educational campaigns, optimal safety measures and correct behavior before and during a flood, a risk will always remain. "Floodlabel.com" helps taking the right precautions. The website offers a realistic risk assessment, tips for the correct behavior, optimal property protection and comprehensive information. In addition, people can connect with experts in their respective area. With the help of "Floodlabel.com", the maximum damage limitation and prevention can be achieved. The "Floodlabel.com" project is actively supported by UNESCO.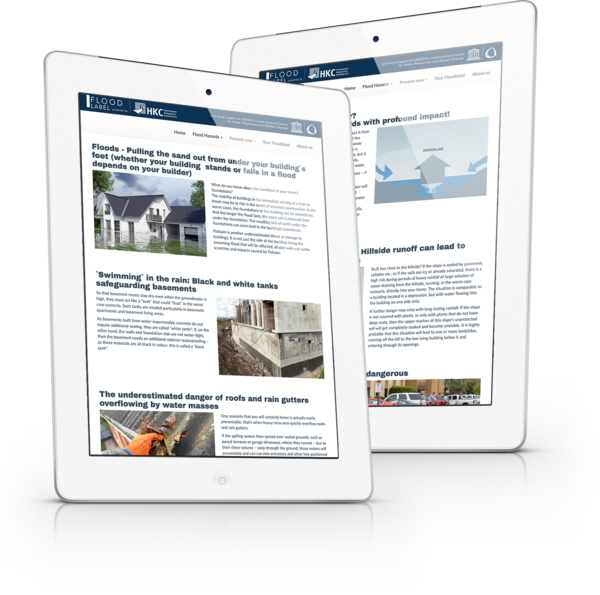 Transferring analog processes to the digital world
With the Floodlabel, homeowners throughout Germany can get a grasp of their individual flood risk. The passport is prepared by an expert that assesses all the conditions on site and issues the label. While the Floodlabel used to be an analog document, the expert is now able to create and approve the passport online. We have digitized the administrative process for this purpose.
Interesse? Schreiben Sie uns an!
Ich bin bei Fragen und Anregungen sind wir für SIe erreichbar. Gerne rufen wir Sie auch zurück.