With the Veltins Brewery from Meschede we were able to win a strong client: Veltins is one of the top 10 largest breweries in Germany (2.7 million hectoliters of beer production in 2019) and has a long-standing history since 1824. 
The multi-stage project started with a kickoff workshop to create the digital roadmap. In the first phase of our collaboration, the conception of the online store for the B2B and B2C product portfolio was planned. After in-depth consultation and a joint workshop, the requirements of the roadmap were categorized and evaluated. The result: Veltins relies on the leading e-commerce system Shopware 6 from Germany.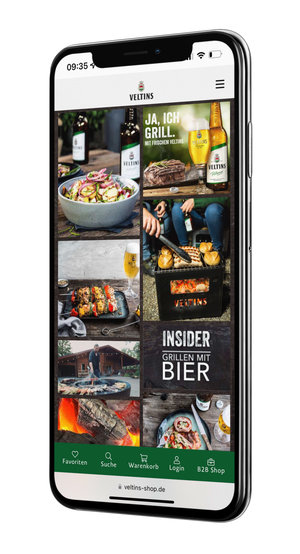 The API first approach creates an omnichannel experience
With the current version of Shopware 6, Veltins uses a modern headless shop system with an innovative backend and a UX-optimized frontend developed by us based on Veltins' corporate identity (CI). Currently, we implement a merchandise management system in Shopware 6. Since launch, we have consistently continued the path of API-first headless development. API-first creates the technological basis allows customers to integrate different digital touchpoints into their customer journey via interfaces (API). Using different profiles, a single shop can use different designs and layouts via the same system, depending on the sales channel in use (B2B or B2C).
Interesse? Schreiben Sie uns an!
Ich bin bei Fragen und Anregungen sind wir für SIe erreichbar. Gerne rufen wir Sie auch zurück.